"The chilling photograph on the left was found by investigators in a camera buried in the rubble. It is surely one of the most poignant images of the whole event. The picture was taken in the minutes before the bomb exploded, clearly showing the red car - with its deadly hidden cargo - beside dozens of oblivious civilians.
Part of this crowd was made up of school children on a trip from Buncrana, county Donegal. The Irish children were hosting Spanish children on an exchange programme. The bomb was to claim the lives of four of these children, as well as a minder."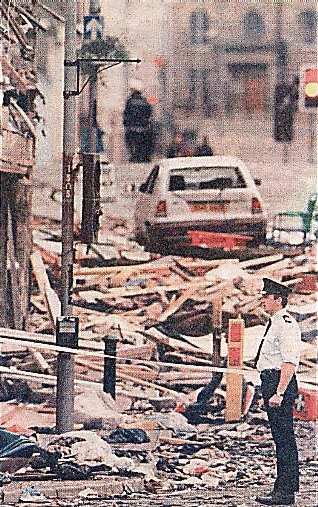 "'I was in the kitchen, and heard a big bang. Everything fell on me - the cupboards blew off the wall. The next thing I got blasted out into the street. There was smashed glass everywhere - bodies, children. People were inside-out.'"
'"There were limbs hanging off, bodies being carried on doors, everything was chaotic. Then just as the bus was ready to leave, the door opened and someone handed a severed arm in. I think that was just too much for the driver. I think he cried all the way to the hospital.'"
'"To see that body lying in the street, with smoke sort of rising from it, and the smell on the street. That's three things that won't leave me was the smell, the sights and the sounds. And the screams of the people. There was people there squealing in agony. Unfortunately there was a burst water main as well on the footpath, and there were people actually, or big pieces of people - bodies - being washed down that footpath, which is something that you never forget. They were just basically piling up at the corner where the gully was, and bits and pieces of legs, arms, whatever, was floating down that street.'"
"'There was smoke coming from the brow of the hill and we stopped in our tracks for what seemed like an eternity and then we just ran towards it. When we reached the brow of the hill there were people everywhere, some with blood, others without a scratch. Then there were just bodies everywhere, it was like a war zone, a killing field. I was numbed by the whole thing. I saw a young boy covered in blood and I knelt beside him. I hadn't a clue what to do. There was blood pouring out of him and his eyes just stared right through you. I just stopped and stared at some of the sights around me, I couldn't take it in. There was another boy screaming "Mummy, mummy". I just picked him up and sat him on the pavement. People were trying to pull you to help others. I didn't know what to do. People were just looking for you to do something. I never felt so alone and so helpless.'"
15th August 1998